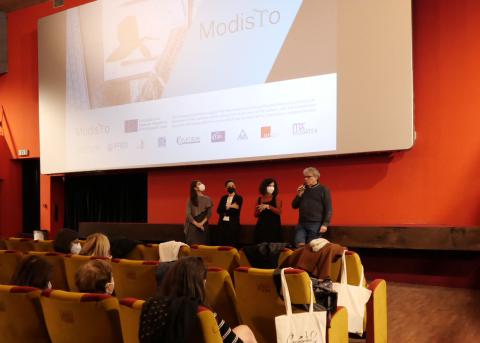 On the occasion of the Fashion revolution week (18th-24th of April 2022), ABANA created an event aimed at raising awareness of fashion and sustainability, an opportunity to reflect on strategies to slow down fast fashion for a sustainable conversion of the fashion industry.
During the event, the first results of the international project MODISTO were presented, and in particular its intellectual output. The presentation of the result focused on the module of the e-learning course led in Italy on eco-design and on the general structure and organization of the course.
The event took place at Cinema Modernissimo, in Napoli, Italy on the 22 April, 2022. The session was completed with two fashion films. The first one is the valuable documentary work of the American director Andrew Morgan, "The true Cost" (2015). The documentary explains who really pays for the low-cost of globalized fashion and how little sustainable this production is. The second one is "Je suis responsible" (2021) a fashion film directed by Enrico Poli for the brand A Forma.
The importance of fashion films in eco-design is one of the topics tackled in MODISTO project.
Some sixty participants participated in this multiplier event.